Now that we have the doom and gloom out of the way, let's start exploring ways to improve your finance and accounting processes. Here at Embark, we frame the conversation around the Process Improvement Lifecycle – a series of stages that will help you identify what you need to improve your processes and, more importantly, start realizing the benefits.
Before we take the plunge, though, we wanted to make sure we're clear about a very important notion – your processes don't have to be old and dilapidated for you to benefit from a jaunt through the improvement lifecycle. Revisiting our opening salvo, truly successful organizations never stop improving, even when – or, more accurately, especially when – they have their operational act together.
With that out of the way, let's look at the Embark Process Improvement Lifecycle across its five main stages: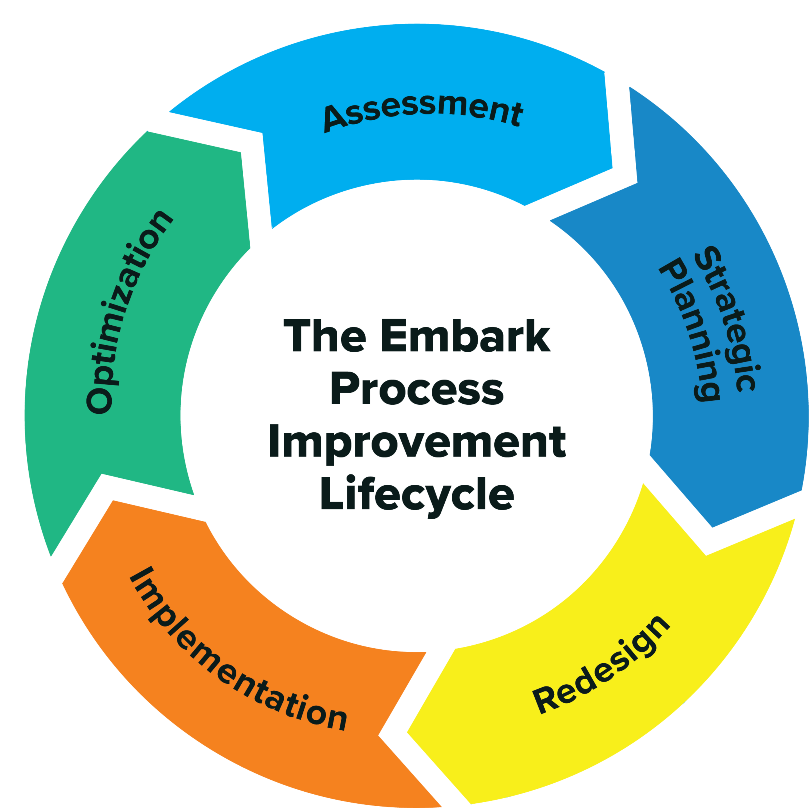 Stage One: Assessment – Getting the Lay of the Process Land
Depending on the current state of your processes, this could very well be the most intricate of the stages. The goal with your assessment is to generate an exhaustive, meticulous, granular understanding of what you do well, where you fall short, and to begin putting the puzzle pieces together which, together, serve as the foundation you need for improvement.
Identifying Areas to Improve
A journey of a thousand miles begins with a single step. In this case, that step is identifying the weak spots within your processes that determine the path for the entire lifecycle.
While improved accuracy might be the lowest-hanging fruit, don't discount the impact of sheer volume or other factors dragging down your process efficiency. Maybe you're integrating multiple acquisitions, you've grown or divested units, or even changed business lines – whatever the case, your processes might not be keeping up with your organization's dynamics.
Conducting thorough walk-throughs of all of your processes and getting a lay of the process land, while not exactly an afternoon in a thrill park, will identify where you need to improve and create a baseline for you to work from. Or maybe you prefer to think of it as a heatmap. Either way, you're gathering an in-depth understanding of the issues at hand, all the way down to their roots, along with the ability to articulate them.
As a rule of thumb, highly transactional processes or those that require several people to complete – like reporting – are typically the biggest, most obvious areas needing improvement. However, assuming you're thorough with your assessment, you're bound to uncover more subtle process potholes, too.
As a rule of thumb, highly transactional processes or those that require several people to complete – like reporting – are typically the biggest, most obvious areas needing improvement.
GAAP Assessment
Obviously, process improvement in accounting and finance has additional requirements that other teams don't. So while your marketing and HR departments will also greatly benefit from improved efficiency and productivity, those fine folks don't have to worry about what financial regulators and the FASB have to say. But you do.
Thus, you always want to keep your eye on the technical side of things as you conduct your assessment. Streamlined processes are fine and dandy but won't do you much good if they don't align with US GAAP. That's what makes a thorough assessment of both your current processes and your redesigned ones relative to accounting standards such a critical component of the lifecycle.
Stage Two: Strategic Planning
That leads us to the second step of the Embark Process Improvement Lifecycle – strategic planning. Or maybe a more accurate term is holistic strategy. Here at Embark, we combine the detailed attention of an auditor with the enterprise-wide, global perspective of in-house leadership while conducting an assessment. The result is technically proficient and adheres to standards, but still incorporates the bigger picture view that connects your accounting processes to your overall business processes.
Obviously, our holistic strategy isn't relegated to assessments, though. Something like SOX compliance requires a very particular skill set and knowledge base to truly understand how your processes drive the bus, impacting everything from HR and IT to, of course, your accounting and finance teams.
We combine the detailed attention of an auditor with the enterprise-wide, global perspective of in-house leadership while conducting an assessment.
Now, while we wouldn't blame you for thinking that you're reading a not-so-subtle ad for Embark right now – FYI, we're amazing – our actual point is this: effective process improvement in accounting and finance requires a unique, all-encompassing strategy that isn't exactly commonplace.
Therefore, whether you choose an in-house team to lead your improvement initiative or a third-party, just make sure they incorporate the specific needs across your accounting and finance functions as they guide your strategy and redesign your processes – more on that in a bit. Besides the technical aspects, a third-party with first-hand knowledge of the inevitable bottlenecks and process dependencies can be an absolute game changer for everyone involved.
Best Practices and Your Plan of Attack
Now that you've identified your weak points, it's time to equip yourself with the tools you need for the remainder of the process improvement lifecycle. Aside from the avalanche of best practices we'll be closing out this guide with, this is also an opportunity to integrate concepts and methodologies that will help you optimize efficiency and cut the proverbial fat.
Lean methodology, Six Sigma, Kaizen, and countless more – they all provide essential guidance in your quest to drive increased efficiency, productivity, and accuracy through improved processes. Most importantly, these fundamental concepts and philosophies can help ensure you don't lose sight of the forest through the trees.
Put another way, your strategy must keep the connectivity between your team, other departments, stakeholders, and customers in-mind as you proceed. Process improvement, even when it focuses on accounting and finance, doesn't operate in a vacuum and impacts scores of others.
Likewise, with so many of the issues with processes stemming from manual tasks, technology also plays a pivotal role in your strategy development. Automating your processes wherever and whenever possible will increase accuracy, speed, and the flexibility you need to meet the demands of your decision-makers.
From your month-end close to daily tasks in AP and AR, technology can transform nearly every component of the record-to-report workflow through streamlined processes. Also, remember every minute that your team doesn't spend on those manual processes is a minute they can devote to other, more value-adding, innovative tasks.
Remember every minute that your team doesn't spend on those manual processes is a minute they can devote to other, more value-adding, innovative tasks.
Create Your Roadmap
At this point in your strategy development, you know where you're starting, have identified your goals, timeline, budget constraints, and ideal future state, and assembled the tools and insights to get you there. Now it's time to put the rubber to the road and create a map to guide your way.
This step, at least from a project management perspective, is similar to other initiatives across your organization. You'll need someone to take the lead and supervise the project, bring process owners and others with key insights into the fold, and develop a cohesive gameplan to, once again, get you from point A to point B.
Establishing and monitoring progress against timelines will be instrumental in keeping you on-track and on-schedule. Meanwhile, you want to be sure you continually address the bigger issues, prioritize the right tasks, and optimize your resources. Remember, everyone involved still has their regular responsibilities to manage so creating and sticking to an optimized strategy is critical.
Stage Three: Redesign
This is the point where the theoretical starts transforming into reality. Taking what you've accomplished so far with your assessment and strategy – including the insights, best practices, and roadmap you've developed to reach that ideal future state – we're now going to convert all of that potential energy into kinetic energy.
But here's the thing about redesigning processes that might make you feel better or worse, depending on your outlook – there are roughly one million ways to go about it. And an approach that might work well for one company could be a fiery pit of despair for another. Therefore, if you choose to tackle this step on your own, our best advice is to follow a course of action that suits you, your team, and resources well.
That said, most organizations find that a whiteboard-type approach to redesign is most effective, where you take your strategic planning, map out your processes, and figure out how to execute them and, thus, make them operational. Also, keep in mind that it takes a village to raise a sound process, so be sure to involve all necessary parties in these whiteboarding redesign sessions.
And as a capper to your redesign, gaining buy-in from your leadership is critical to ensure you've covered your bases before moving into the implementation phase. There's absolutely nothing efficient about traveling a mile or two down your roadmap only to realize you need to reverse course and go in a different direction.
Our best advice is to follow a course of action that suits you, your team, and resources well.
Stage Four: Implementation
Implementing your redesigned processes is largely about educating your people on them, beginning with a simple announcement that the redesign is complete and you're ready to roll. From there, you want to clearly communicate which templates your team should use.
Given how averse most people are to change – we're looking at you, staff accountants – formal training sessions can be your best friend during implementation. This way, you can provide everyone with documentation, walk them through the redesigned processes, and ensure they're ready, willing, and able to accept them as the norm.
After those training sessions, it's important for your frontline and mid-level managers to continue to gently remind everyone how important the new processes are to your team and organization. As you can see, implementation takes most of the factors that drive effective change management and distills them into a single stage.
Stage Five: Optimization
Now it's time to enjoy the fruits of your labor. Well, sort of. Wouldn't it be a shame to devote all of that effort into something that ultimately didn't work as you planned? That's why this fifth and final stage of the Embark Process Improvement Lifecycle is so important.
Process improvement isn't a set-it-and-forget-it kind of thing. Because things change. Personnel, technology, the marketplace, your customer base, your goals – none of them are set in stone. Thus, continually monitoring and optimizing your processes will not only prevent you from having to reinvent the process wheel again in the near future, but also ensure they continue to run on all cylinders.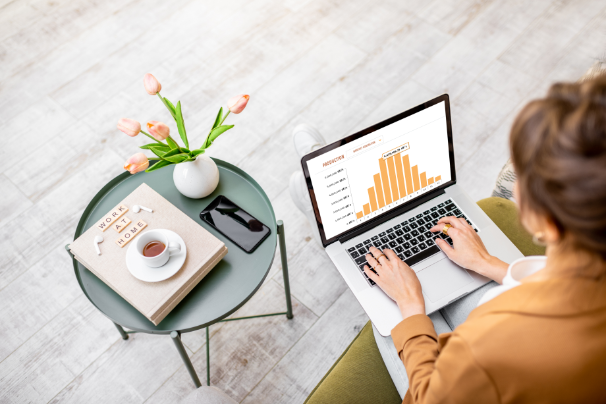 To begin with, you probably identified some KPIs back in the strategic planning stage of the lifecycle. If you didn't, then this is a great time to choose some insightful metrics that will help you keep a pulse on the relative health of your redesigned processes.
For example, if your goal was to speed up a specific process, then simply monitoring time will tell you if your redesign continues to be effective. If you start to see a negative trend, then you need to revisit that process and make needed changes as you go. This is another area where a third-party can help, especially if it played an active role in the lifecycle and is already familiar with your processes.
To ensure your optimization continues as it should, try scheduling a "check-in" with your redesigned processes after two weeks, 30 days, a quarter, six months, and a year thereafter. Use your chosen KPIs as the financial canary in the coalmine, signaling when something goes sideways and it's time to roll those sleeves back up and figure things out.
For smaller miscues that don't necessarily require a new assessment but still warrant some attention, a simple Google Doc that collects input from your managers can help you monitor if any small tweaks are necessary. Also, collecting feedback from your team is a good idea for any number of reasons, including the relative health of your processes.
No matter what, just don't scrimp on the time and resources you devote to this optimization stage of the lifecycle. Once again, things change, especially with so much uncertainty out there. Between employee turnover, new business lines, M&A, and just the natural evolution of your organization, change catalysts are a constant, meaning your optimization efforts should be a constant as well.